Hi I'm Rachel Bates I am a hairstylist, and partner of Hera Beauty the official glam squad for
Haute Shots Boudoir Photography
. So excited to be guest blogging for Shana!!! I met Shana when she became our spokesmodel and like her I am a total bargain shopper...and even when it comes to my products...some of these are even better than the pricey ones!!
Here is my top 5 list for the best beauty bargains!!!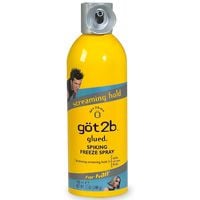 Got2be Glued Hair Spray
I absolutly love this stuff it is some serious hair spray and I use it a few defferent ways, it works great to "set" an updo style so that every curl stays in it's place all night long. I also use it as volumizing hair spray just be sure you hold the can about 12 inches from your head and lighty mist it. My favorite way to use it is as a root volumizer, you section out your hair at the base where you want volume (bump it style) and spray then tease. If you are really wanting some crazy volume pair it with # 2 on the list! You can purchase this pruduct in most drugstores for $5.99
Got2be Powderful
I think this is my favorite of the bargain finds! This is a volumizing powder that you sprinkle into sectioned hair at the root and tease for added volume. Just remember when using this product that a little goes a long way. There are a few name brand hair product lines that have volumizing hair powder and in my opinion this brand works just as good for 1/2 the cost. You can purchase this product in most drugstores for $5.99 (and i have even found it in the clearance bin at Walgreens for 99cents before!)
Not Your Mothers Beach Babe
This is probably my most used product in the summer months. Beach Babe is a sea salt texturizing spray that you simply mist in your damp hair and then when it dries you have a beautiful beachy wave! This stuff also smells amazing like the beach and coconut. You can find this product at most drugstores for $5.99
Not Your Mothers Kinky Moves Curl Defining Hair Cream
This hair cream is a yummy-scented combo that leaves your curls soft and
shiny
and it smells like grapes! I love this product for my kids because they love the smell and it never leaves the hair crunchy so you don't have to battle tears when combing or brushing the next day. You can purchase this product at most drugstores for $5.99
Loreal Ever Pure Sulfate Free Shampoos and Conditioners
Ok with this product I have to be honest with you that in my opinion nothing tops Enjoy sulfate free shampoos and conditioners but that line is very expensive and just like everyone else I cannot afford to purchase expensive hair products all the time, so this product is my best find of the grocery store aisle shampoos and conditioners. It will leave your hair soft and silky and being sulfate free is very healthy for your hair. Another plus is this product is in every drug store and grocery store and I quite often see it on sale at various places. It generally costs $5.99 each (unless you find a sale!)
So there you have it! You don't have to empty your bank account on expensive hair styling products to have rocking style...does this mean I can be a member of Thrifters Anonymous now? Thank you guys! and let me know what some of your favorite bargain products are!!!