Shoes: Banana Republic $10 (2011), Tights: Betsy Johnson, Dress: Max and Cleo Gifted (2011), Belt: Express Thrifted $1.50 (2010), Jacket: H&M (2009), Earrings: OLD..very very old...I found them in an old purse don't you love that!
So just in case you were wondering, I am having a good timewith this challenge but I am sooo excited I am over the half way mark. While I have really enjoyed it and will continue for the next 11 days, I have never been so excited to wear my own clothes! haha that sounds funny..but I seriously dream of dresses and tops I haven't worn in years and think about how I can style them...with the 80 pairs of shoes I have left in boxes sitting in my closet because I have been so boring for the majority of my life and haven't worn them!! Well, I guess I just have to get over it since I still have a ways to go...the weather seems to be getting a little better, I never realized how much the sun can affect my mood! I am definitely a Vegas girl..I need Mountains, Sun, and 24 hour access to anything I want..he he he..
I had to bring up the Oscars since we were talking about fashion....unfortunately sometimes it is not about the films as much as it is about what everyone is wearing! I hate to admit it, being a ballerina, lover of horror and Natalie Portman, but I haven't seen Black Swan yet..Sister!!! If you are reading this we need to go see it before it leaves the theatre!!!
So, umm sometimes I just don't agree with all of the critics out there, Joan Rivers is funny sometimes but I don't always agree with her rants. I like weird...off the wall, and totally out of the ordinary...so here are some of my favorites in no particular order.
1. Strangely Vintage Amazingness: I LOVED this dress Cate Blanchet wore by Givenchy. Everyone is already saying it is hideous...but I think it is stunningly weird and Cate rocked this vintage looking piece.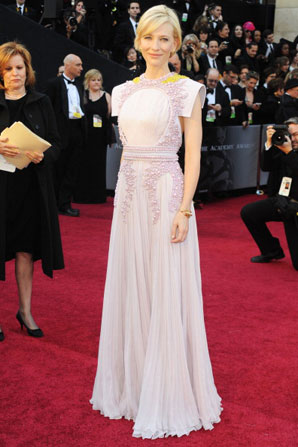 2. Necklace on Sequins:
Amy Adams
was stunning in her tight L'Wren Scott and Cartier necklace, (which I think is awesome) Necklace on sequins = genius. And the old school finger waves.....I WILL be doing this this weekend...hmmm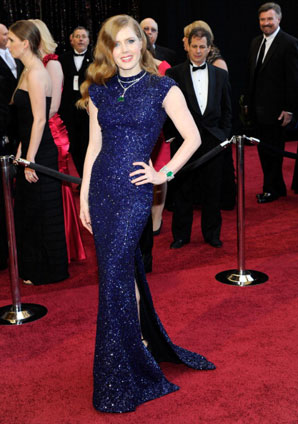 3. Lace and charcoal: Now, everyone talked crap about
Scarlet Johansson's
dress, but she was probably my favorite..so romantic, so vintage, and so not expected. Look at her makeup, the charcoal liner, with the rusted orange/red shadow! ughhh...Love you Scarlett.

4. Lilac Ruffles:
Mila Kunis
and this ridiculous lilac lace gown from Elie Saab, and I am trying to figure out how I can replicate it...hmmm so pretty!

5. and last but not least...my lovely Natalie Portman...I am in love with her prego amazingness and those tassel earrings will need to be in my collection...I will be on the hunt! I am also loving the side swept hair!
Have a great Day and Happy Wednesday!
Don't forget to link up any secrets you may have to helping all of us save some money and get creative! Remember it doesn''t have to be clothing and it doesn't have to be from a thrift store, it just needs to be on SALE, or possibly a secret to saving a few dollars!